Festivals of Bhutan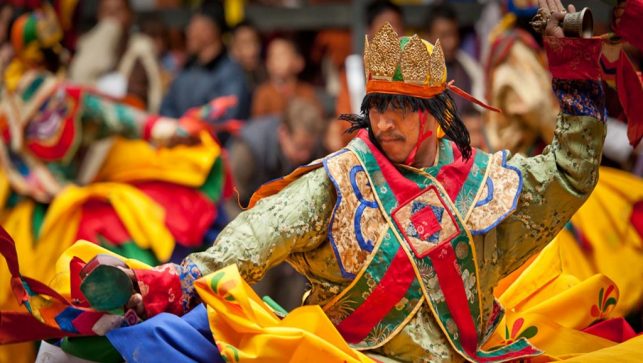 At various times of the year, Bhutanese people in towns and villages congregate to witness the masked dance festivals known as Tshechus. These colorful events draw thousands of locals, some of whom walk for days to attend them. There is inevitably a great deal of socializing; it is an opportunity for people to relax and forget the daily routine, to dress in their finest clothes and jewelry but, more importantly, it is an occasion for prayer and blessings. The Tshechu is a religious festival and by attending it, it is believed one accumulates merit.
The Tshechu is a festival honoring Guru Padsambhava – 'one who was born from lotus flower'. This Indian saint contributed enormously to the diffusion of Tantric Buddhism in the Himalayan regions of Tibet, Nepal, Bhutan etc. around 800 A.D. He is the founder of the Nyingmapa, the 'old school' of Lamaism which still has numerous followers. The biography of Guru is highlighted by 12 episodes of the model of Buddha's (Shakyamuni's) life. Each episode is commemorated around the year on the 10th day of the month by the 'Tshechu'.
The dates and duration of the festivals vary from one district to another but they always take place on or around the 10th day of the month according to the Bhutanese calendar.
Some of the Popular Festivals of Bhutan
Festivals Name

  Location

 District

Start Date

Duration Day/s

Festival type

Punakha Tshechu

 Punakha Dzong

   Punakha

  25-27 Feb'18

        03

     Religious

Gasa Tshechu

Gasa Dzong

   Gasa 

  24-26 Mar'18

       03

     Religious

Paro Tshechu

Rinpung Dzong

   Paro

  27-31 Mar'18   

       05

     Religious

Haa Summer festival

Haa

    Haa

  14-15 Jul'18

        02

   Community

Matsutake Festival

Ura

   Bumthang

  23-24 Aug'18

        02

  Community

Thimphu Dromche

Tashi Chho Dzong

   Thimphu

  15 Sept'18

        01

    Religious

Wangdue Tshechu

Tencholing Army Ground

  Wangdue -phodrang

   17-19 Sept'18

       03

    Religious

Thimphu Tshechu

Tashi Chho Dzong

  Thimphu

  19-21 Sept'18

       03

    Religious

Jambay Lhakhan Drup

Choekhor

   Bumthang

   24-27 Oct'18

       04

    Religious

Mongar Tshechu

Mongar Dzong

    Mongar 

   15-18 Nov'18

       04

    Religious

Trashigang Tshechu

Trashigang

Dzong

  Trashigang

   17-19 Nov'18

       03

     Religious